Apr 2, 2023 10:24 AM Central
Lori Atkinson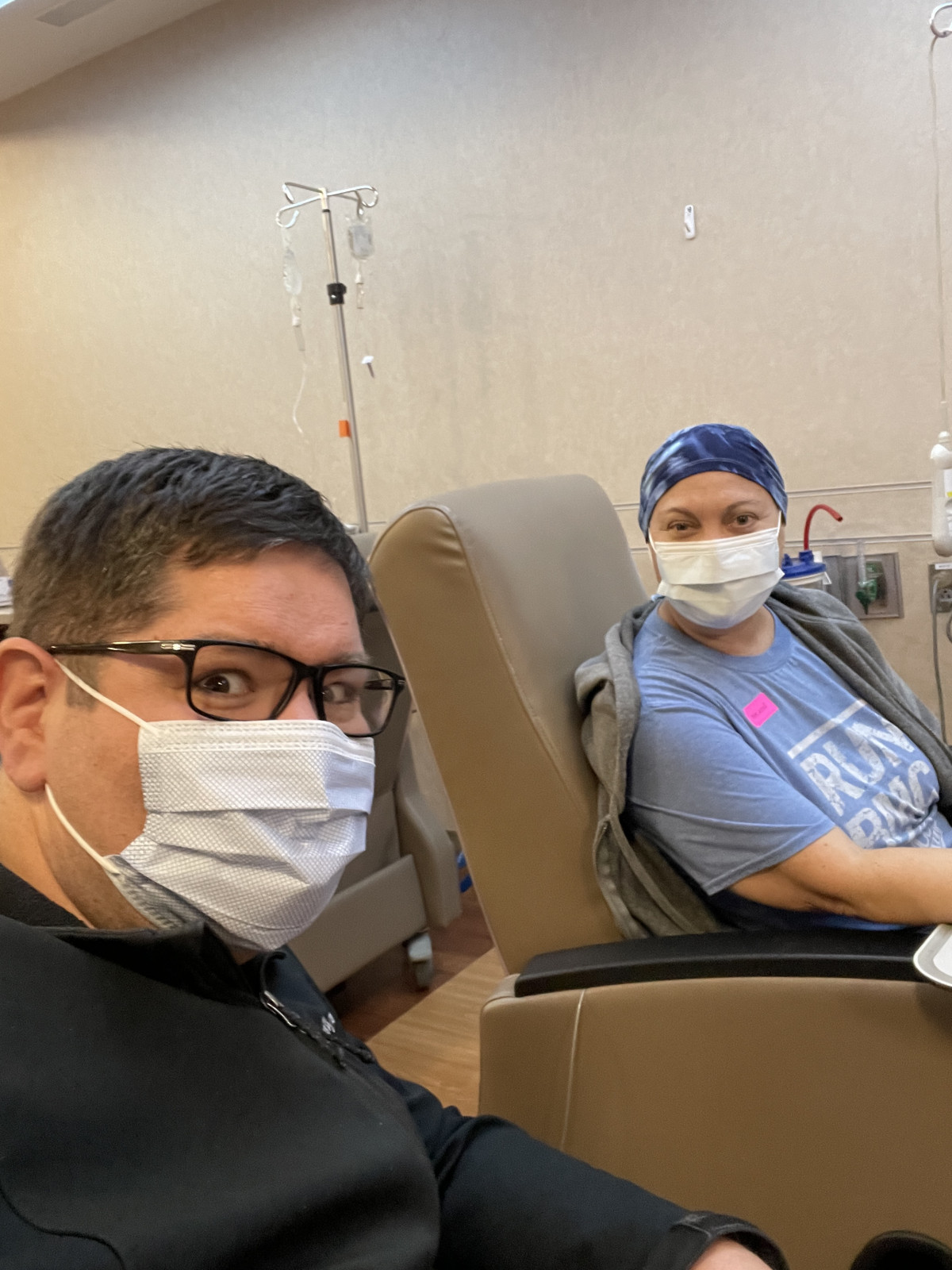 As always I can't thank all of you enough. I wouldn't be where I am without your continued prayers!
Wednesday was a long day. I had my pre chemo blood draw early in the morning. Then we met with my oncologist Dr Brown before my infusion. This was the first we had seen her since my PET/CT scan. She went over all the scans with us and was very excited at my outcome. Just like what we had read on the report all cancer in my body was decreased by 50% or more and some were in normal range or completely resolved! PRAISE GOD!!!
Some other things we discussed with Dr Brown were that in the last week before my chemo infusion my left leg pain that I had initially before I was diagnosed with cancer had returned. It had previously gone away sometime during my radiation treatments. She talked with us about how the bone remodels during treatment and that sometimes fractures can occur. She is referring me to Orthopedics for further testing. I have to say though that since my infusion on Wednesday the pain in my leg has gotten better. I will still have it checked out further. Dr Brown is also referring me to an Endocrinologist to have my thyroid checked out. My blood work on Wednesday showed that my immunotherapy drug Keytruda is attacking my healthy cells in my thyroid. She assured me that a prescription for thyroid medicine will fix it, so we can continue with the immunotherapy drug. I'm scheduled to see the endocrinologist on the 21st. We did decide to lower my dose of one of the other chemo drugs that causes neuropathy(tingling/numbness) in the hands and feet. My hands have responded very well to the laser treatments we have been doing for the neuropathy but my feet aren't. We are doing this to keep my feet from getting worse. Once I start to experience pain in my feet I have been told there is no reversing the damage and we want to try to keep that from happening. Dr Brown said that lowering this drug dose won't affect my great outcome with the cancer. So we are relieved about that!
The last thing we talked about with Dr Brown was about a port implantation. I was hoping to avoid it but alas here we are. They have been having trouble accessing my veins the last two times(this is normal with chemo treatments) and the port will alleviate that. So I am scheduled to have that put in on the 14th.
Yesterday I had my third acupuncture treatment. I can't say that I have noticed much difference in my symptoms but they do leave me very relaxed and in need of a nap. I do like feeling relaxed!
Prayers:
That the bone pain in my legs that I have been getting following my chemo treatments would subside or not come at all! It usually happens about 3-4 days after my chemo. So today or tomorrow. We shall see.
That I won't get anxious about getting a port. It is a surgical procedure and they said I would be under for about an hour. I've only ever been put under once in my life. For my wisdom teeth removal as a teenager.
Update on Devin:
We just started him on some new supplements for GI health and are hoping this helps his gastritis. We should know in about 10 - 14 days if it will help. He has been doing pretty good as of late. No real bad attacks just some small stomach pains is all. He hasn't taken any prescriptions in about 10 days. Continued prayers for him as well.
PS. I wanted to make a handout to help people who are going through a rough day so I turned to my Facebook friends for help. Here is a compilation of things to do to help you through a rough day. Feel free to download it. I hope it brings you help in a time of need. Enjoy!